:
June 2018
Around the Bible in Eight Sessions
Join Paul Brewerton for this new twist on Bible study. There will be a lively topical discussion every week.
What do these bible topics mean in a modern world?
17th June: In the Beginning
24th June: Psalms are Special
1st July: Words of Wisdom
8th July: Words of Prophecy
15th July: Letters to the Early Church
22nd July: Mark
29th July: Matthew & Luke
5th August: The 4th Gospel
The sessions are stand alone so you are not required to attend them all.
Meetings will take place in the Coffee Lounge every Sunday afternoon at 5 pm.
We hope to see you there!
You may also be interested in
: Thu 05 Jul 1:34pm
AFTERNOON STRAWBERRY CREAM TEA — 28th  JULYWe would like to invite you to join us for a Strawberry Cream Tea on Saturday 28th  July 2.30pm — 4.30pm.  The money raised will be used to support Lebone Village and the Handicraft Stall. The Handicraft Stall supports the church charities through sales at church events.  Invitations will shortly be available from the post table if you would...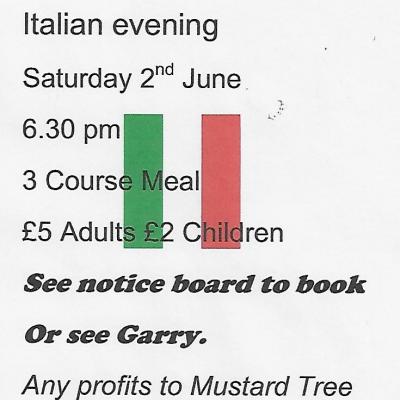 : Fri 01 Jun 12:19pm
Everyone is invited to our Summer Social Italian Dinner. If you are interested in coming, please sign your name on the sign-up sheet on the notice board in the Main...
Coming events

U3A Science
Monday 23rd July @ 10:00am

Tai Chi
Monday 23rd July @ 1:45pm

Leadership Team Meeting
Monday 23rd July @ 7:00pm

Westleigh Management comp.
Monday 23rd July @ 7:00pm

Pilates
Monday 23rd July @ 7:30pm

Baby Sensory
Tuesday 24th July @ 10:00am
News stories
Strawberry Tea
: Thu 05 Jul 1:34pm
Back To Basics
: Mon 11 Jun 10:00am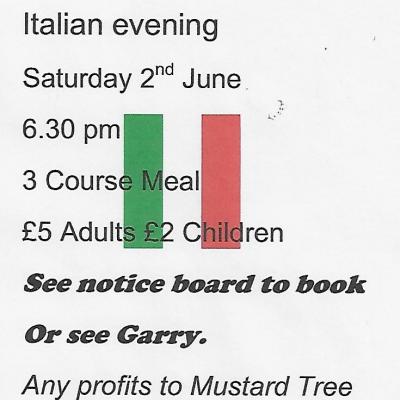 Italian Dinner
: Fri 01 Jun 12:19pm
Publications

Notice 1st July 2018
PDF file

Safeguarding Policy 2018
PDF file

Notice 24 June 2018
PDF file

Notice 17 June 2018
PDF file